When Oklahoma City rolled snake eyes with picks 6 and 18 on lottery night, all of the attention turned to how they may be able to climb back up the board. As Thunder GM Sam Presti continues to navigate through every potential avenue for trade destinations — Oklahoma City will be looking to find their way up in the draft.
Here are my takes on the Top 4:
Note: All takes here are opinionated. Sam Presti is a wizard, so nothing, I mean nothing, is off the table.
Detroit Pistons
Upcoming Picks: 1, 37, 42, 52
The Detroit Pistons were the unanimous victors of last month's draft lottery. Now entering the 2021 Draft with the no. 1 pick, prying away what is assumed to be Cade Cunningham is not an easy task — it won't be.
If there's one salt of hope in any transaction with Detroit, current Pistons' GM Troy Weaver worked behind Sam Presti for 12 years within the Thunder organization. Even with that, it's hard to imagine any buddy-buddy mingling would coerce over an asset like the first pick.
Recent mock-ups describe potential Thunder-Pistons swaps centered around the exchange of Shai Gilgeous-Alexander and Oklahoma City's no. 6 pick, but I'd imagine Presti may slam the phone just by the thought of moving Shai.
Without the inclusion of a third team or SGA, a deal for the first pick is pretty distant, even with the team's 18 first-round picks until 2027.
Though let's not kid ourselves here, Presti will likely be offering a lot of firsts. A historic number of them. The ball will be in Troy Weaver's court.
The Kicker: Detroit has tracings dating to Ignite guard Jalen Green. If Houston were to give a draft promise to USC center Evan Mobley, a potential gateway opens for Presti to conduct a three-team deal sending Detroit pick no 3., Cleveland pick no. 6, and Oklahoma City pick no 1.
Let's call it a dream for the moment.
Houston Rockets
Upcoming Picks: 2, 23, 24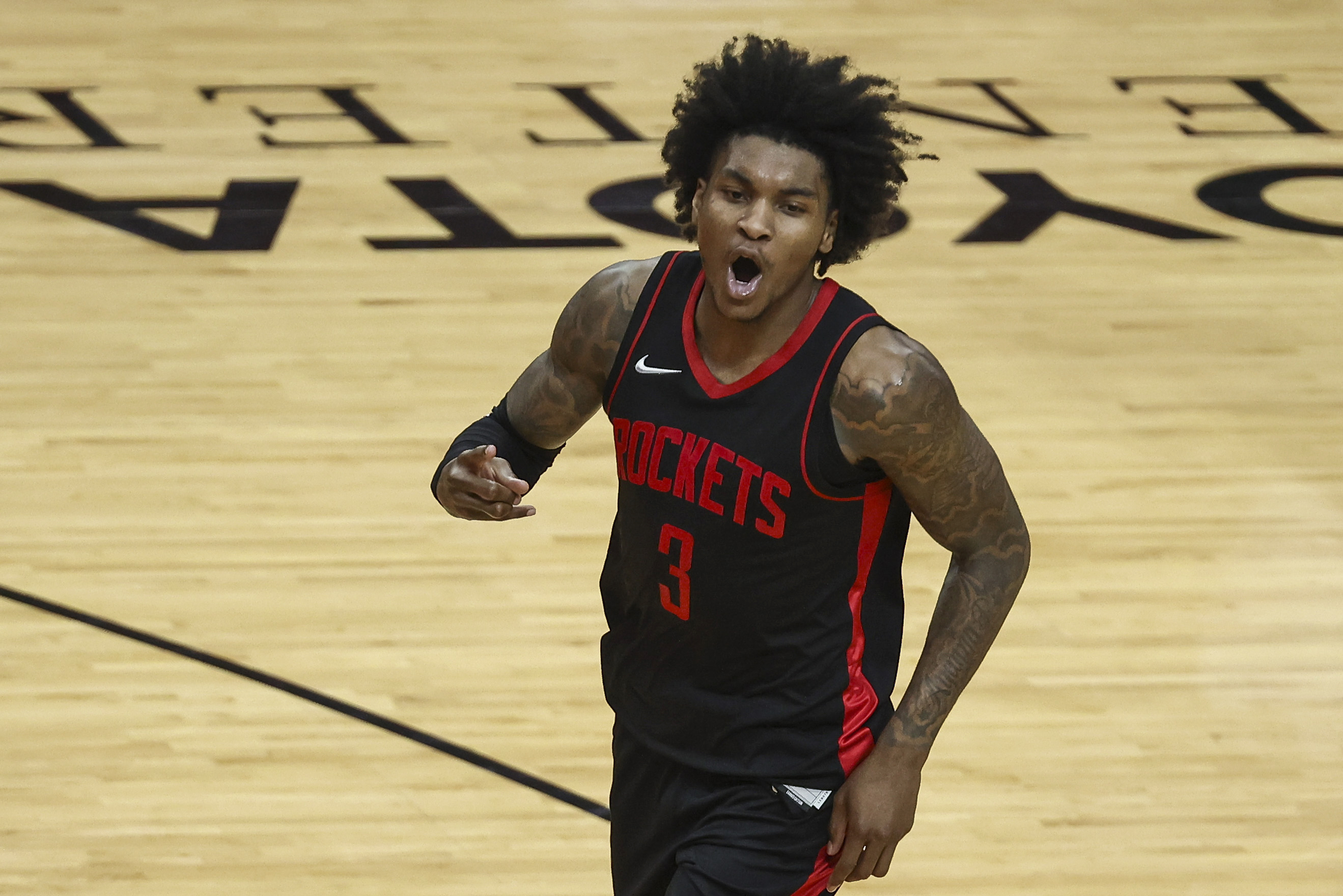 A hypothetical package to snatch the no. 2 pick in the draft would require not just Oklahoma City's no. 6 pick, but also Houston's first-round picks in 2024 and 2026, even then, their 2025 pick swap may need to be chopped in. On the surface level, Houston dropping four selections to reacquire three of their picks seems like a no-brainer move, but it's a lot more complicated.
A fall from pick no. 2 to 6 is dramatic in any draft class, but particularly this one. Assuming Cade Cunningham is chosen no, 1, Houston can pick from guard Jalen Green or Evan Mobley — who are both considered to be future stars. At pick 6, the board is much more of a dice roll, names in Jonathan Kuminga or Scottie Barnes may be there, but everyone left have serious holes needed to be patched.
All signs indicate that the Houston Rockets would like to pair rising guard Kevin Porter Jr. with a sidekick in the draft, and Jalen Green seems to fit the bill.
Houston has a two-year gap in 2022 and 2023 when it comes to shipping off any draft capital, so swinging for the fences at no. 2 should allow for more asset acquirement in the following two seasons.
Oklahoma City has the assets, but Houston has a blueprint — no deal.
Cleveland Cavaliers
Upcoming Picks: 3
The Cleveland Cavaliers earned the no. 3 courtesy of losing their coin flip versus the Oklahoma City Thunder last month. They'll have a lot of questions to tackle on draft night.
Cleveland will have the last slice between Evan Mobley or Jalen Green following Houston's selection, but there's a chance they won't even take it.
Over the past three seasons, the Cleveland Cavaliers went from a team stuck in ruins of LeBron James' departure to now having a youthful, promising core engulfing most of the floor. At both guard positions, the Cavs have guards Collin Sexton and Darius Garland at the helm. those two generated right over 40 points a contest last season. At small forward, Cleveland's fifth pick from last season, Isaac Okoro, shed light as a multi-positional lockdown defender with a touch of scoring ability. At the five, Cleveland has Jarrett Allen.
When healthy, Cleveland's power forward lies in 32-year-old Kevin Love. As the last standing piece from the LeBron days (sorry Dellavedova and Varejao) Love's $60 million deal over the next two seasons puts a giant ripple over the franchise's current aspirations. They'll need that salary for future Sexton and Allen contract extensions.
Even past the financial side of this deal, if Cleveland dropped down to no. 6, the latter of Jonathan Kuminga or Scottie Barnes can translate into a smaller four. Their starting five would be secured.
In this hypothetical world, Cleveland sees the appeal of offloading Love, but they also have some intrigue in one of Kuminga or Barnes.
Done deal.
Oklahoma City receives: Pick No. 3, Kevin Love
Cleveland Receives: Pick No. 6, Pick No. 16, 2023 second-round pick (WAS)
Oklahoma City moves up to select Mobley or Green, and Cleveland walks away with Barnes or Kuminga, and a boatload of roster flexibility.
The Kicker: The No. 16 pick for Cleveland should also be extremely valuable especially under their current conditions as with Matthew Dellavedova being the only true point guard off the bench, this pick can be used on one-of-many guards flocking the mid-first round. A player for the Cavaliers such as Ty Jerome may also suit their organization in a bench role, though it's hard to picture him being dealt unless OKC's crosshairs are on a guard prospect at 3.
Toronto Raptors
Upcoming Picks: 4, 46, 47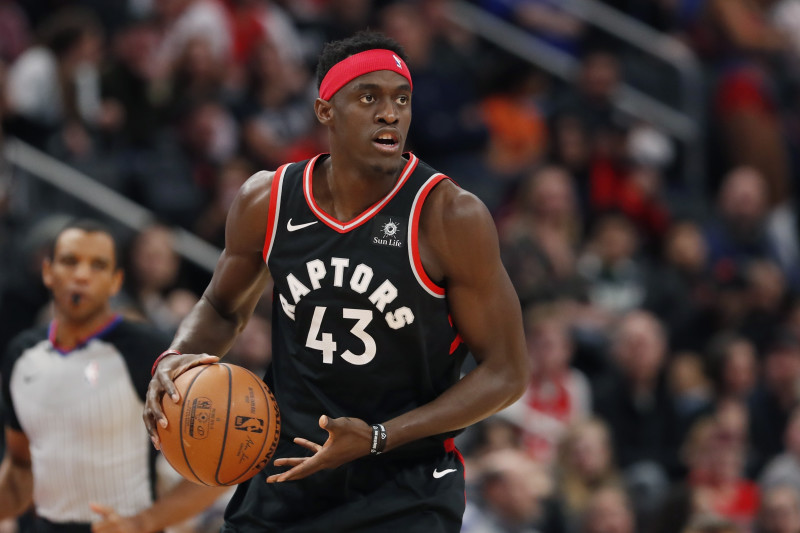 For a team just two years removed from a Larry O' Brien Trophy, the thought of the Raptors selecting fourth in the draft is bewildering.
If you ask one of Toronto's executives, their lottery success may be larger than the Pistons'. Hopscotching three picks from 7-to-4, Toronto can build for the future, or build for the now.
With forward Pascal Siakam on the roster, growing speculation is that he may be moved this offseason for Warriors' center James Wiseman and their no. 7 pick. If that is the case, Toronto's entire infrastructure is tumbling down — they'll be in rebuild mode.
If the Raptors would like to run things back for another time the base of Fred VanVleet, Gary Trent Jr., OG Anunoby, Pascal Siakam, and Chris Boucher round out a solid core of pieces. Plus, if they can resign unrestricted free agent Kyle Lowry to an extension, hunting down win-now pieces could be of value.
To put it lightly, a complete rebuild from the Raptors wipes the idea of Oklahoma City even grazing the no. 4 pick. A situation in which Lowry leaves and the franchise disliked VanVleet as the lone point guard — Oklahoma City still will be out of luck. However, if all the cards lay just right, there's hope.
If Toronto keeps their group or likes the idea of VanVleet and Trent Jr. filling the guard spots, slipping to no. 6 makes a lot of sense based on need.
Consensus players at pick no. 6 in Kuminga and Barnes would create a unified connection with wing OG Anunoby, and even Pascal Siakam for a defensive hazard.
OKC Receives: Pick No. 4, Pick No. 46
Toronto Receives: Pick No. 6, Pick No. 16, Pick No. 36, Kenrich Williams
The Kicker: This hypothetical is very similar to Cleveland's deal, both from an asset standpoint, but also the logistic side of things. A player of Scottie Barnes or Jonathan Kuminga's caliber slides seamlessly into the rotation in combinations with Siakam or Anunoby. Toronto's backup Malachi Flynn has been a pleasant surprise, but a pick at 16 would also give you a solid shot at nabbing a guard — even at pick no. 36 gems are always lurking. On top of this, Kenrich Williams provides one of the best bang-for-your-buck contracts in the league (2 years, $4 million) with the ability to both defend multiple positions and be effective scoring off the catch.
Oklahoma City's perspective is not as glossy. A trade to four nearly ensures the selection of Gonzaga guard Jalen Suggs, pick no. 46 comes out of courtesy.
A deal I pondered originally included Lu Dort, and pick no. 4. That trade would almost surely be a green light from the Raptors as the Montreal native not just would be playing in his homeland, but also fit Toronto's scheme — plus a guy like Scottie Barnes would give you the same thing. That deal is very shaky from the Thunder's perspective as a move like that would gain you, Jalen Suggs, presumably, a guard who could pair up to SGA. Presti needs to be sold on Suggs for a deal of that nature.