Talent at the NBA level comes in all shapes and sizes. For some players, their talent has been undisputed amongst peers. For others, however, their abilities go under the radar — even passing through draft day.
As Oklahoma City's lottery aspirations came to a fold Tuesday evening, the first glimpse of head-to-head prospect evaluation arose — and now there are some new faces on the block.
Over the course of Sunday and Monday, the NBA G-League hosted a 40-player combine event for players on the cusp of NBA Combine potential. This two-day session delved through measurements, drills, and most importantly — 5-on-5 competition.
Here's who stood out from the pack:
EJ Onu – Center, Shawnee State
ESPN Big Board Ranking: 95
EJ Onu entered this past week's combine as a surprise pick of sorts, but he definitely shouldn't have.
Onu clobbered his competition averaging 16.9 points, 8.1 rebounds, and 4.6 blocks in 33 appearances with the Bears last season. The kicker — Shawnee State is a member of the NAIA, meaning he's gone unnoticed for most of his career. Headed into camp, Onu was sparsely listed on any major draft boards, and when at all, he's hardly seen as draftable.
For Onu, his time in G-League Combine play was spotty at best docking averages of 3.5 points and 4.0 rebounds a game — but his shot-blocking appeared to have slid right over, tacking on 3 blocks in both his appearances.
The main mystique with Onu — is his upside.
Onu is by no accounts a "young" player, at least from a rookie perspective. Onu hits the 2021 Draft pool after a full four-year college career, meaning he'll be turning 22 years old next month. Even with his bump in age, Onu's glamour still doesn't fade, especially when looking at measurables. Onu stands at 6'9.75″ with no shoes, and peeps right at the doorstep of 6'11" when laced up — that's not his money maker though. Onu soars over his competition with a 7'8.5″ wingspan giving him the longest arms of all prospects, G-League or NBA combine, by a little over four inches.
Onu's appeal heavily rests in his upside due to that large frame of his, and even icing it, he shot 40-percent from distance on 3.9 attempts per contest. This one-two punch Onu brings gives him the seeds of an agile center who could potentially spot up from deep (though playing devil's advocate, he did shoot 62-percent at the line.)
Clearly, Onu has a few kinks in his game to straighten out, but his confirmed measurables coupled with his potential rim protection and offensive skills turned him into one of the most intriguing players in the class.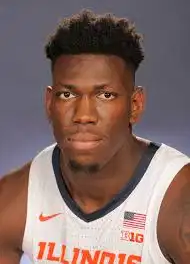 Kofi Cockburn – Center, Illinois
ESPN Big Board Ranking: 93
Unlike Onu, for the average college basketball watcher, you've likely heard of Kofi Cockburn for one reason or another.
Cockburn became a staple of the Fighting Illini's offense this past season posting averages of 17.7 points, 9.5 rebounds, and 1.5 blocks in 31 games. He made sure to transfer his skills over this past week.
Cockburn is renowned for utilizing his 7-foot, 285-pound frame to essentially outmuscle the competition, it worked in his two contests. The center averaged 10.0 points and 9.5 rebounds in his appearances pestering opponents by solely being present inside.
Ten years ago, a player of Cockburn's stature at playstyle would make him a no-brainer selection in the draft, but due to the league's constant change of pace — players of his nature are starting to fizzle out.
For Cockburn, his back-to-basket, bully-ball play aligns perfectly with college basketball. Truthfully, he also could provide a serious role in the G-League. The only stipulation is at the NBA level, his lack of size and speed will be abused until improved upon.
When you envision Cockburn at the next level, think of a player like Dakari Johnson. He's big, strong… and 7-feet tall. In more frontcourt-heavy leagues like the G-League or even overseas, Johnson and Cockburn will do some justice, but once placed on an NBA floor — their points of attack are lessened, and with no carved out jumper — it's hard to receive meaningful minutes.
Cockburn did not receive an invitation to Thursday and Friday's NBA Combine, but by the way he performed — he deserved it.
Duane Washington Jr. – Point Guard, Ohio State
ESPN Big Board Ranking: 83
Duane Washington Jr. has been contemplating returning to college since entering his name into NBA Draft waters. His two performances surely will make an impact.
Washington Jr. hit the ground running in 5-on-5 competition, leading his team in scoring on 15.5 points, while even sneaking in 1.5 steals. That was enough to earn himself an invitation to the NBA Draft Combine.
Washington Jr. shot a shaky 4-of-15 (26.7%) from downtown in his two games, but his knack at on-ball scoring had to have piqued scouts' interest. Of the bounce, Washington Jr. found his rhythm rattling off moving mid-range jumpers, and even beyond the arch, it took him no time to get off his release. He gets extra points for having a high arch.
As a 6-foot-3 guard, Washington Jr. is more or less a tweener at either guard position — but hopefully, that will be sorted out in time. From Oklahoma City's perspective, taking a nab at Washington Jr. may not be in their best interest, but he's shown he'll be a fun project for whoever takes a shot at him next month.
Other Notables: AJ Lawson, Aaron Wiggins, Dawson Garcia
The NBA's Draft Combine will be held at the Wintrust Arena in Chicago on Thursday and Friday. Coverage can be found throughout various ESPN networks.