Photo Credits: Coby Van Loan/OKC Thunder
When Lu Dort was cleared from concussion protocol four days ago, the sophomore was expected to fill a primary role with Shai Gilgeous-Alexander out long-term. After Dort's 15-point return game, some criticized the guard for not elevating his play to star levels — those same people couldn't have even imagined Dort's leap would've been as large as it was Tuesday night.
Dort finished the contest crushing both his in-season (26) and playoff career-high (30) with 42 points, ending his historic night off a red-hot 15-of-31 shooting clip. The sophomore matched Shai Gilgeous-Alexander for the Thunder's largest single-game scoring performance of the season while joining Kevin Durant as the only two Thunder players under 21 to reach the 40-mark. Youth aside, Dort also became the sixth player in franchise history to claim a 40-piece, signing onto a decorated list of Kevin Durant, Russell Westbrook, James Harden, Paul George, and Shai-Gilgeous Alexander.
Lu Dort not only impressed fans Tuesday night, but he also sent a real statement as to why he's a certified threat on both ends of the ball. Let's Break Down the Tape.
Three-Point Shooting
Since the opening of the contest, Lu Dort locked his crosshairs from downtown for a full 48-minutes. By the sounding of the final buzzer, Dort had drained a career-high 7 three-pointers, only taking 11 tries to hit his lucky number.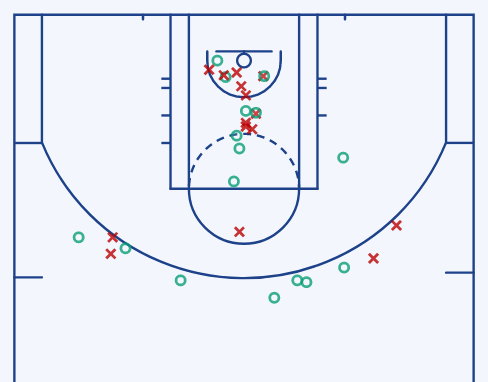 Taking a look at the 21-year-old's shot chart, it's clear to see where the "marksman" honed in from outside. Not only did every single made three come from the two wings or top of the key — so did all of his misses. Dort even looked to the corners for attempts, because simply put, there was no good reason too.
Dort's three-point tries displayed a diverse palate of how Mark Daigneault has been orchestrating the offense. Daigneault reverted to using Isaiah Roby as a screen-man much more than we've typically seen outside of the small-ball five. When Roby has been used as a screener, it's often been for ball-screens, but Daigneault pushed his boundaries Tuesday, and it paid off for everyone involved. Roby set two near-identical elevator screens at the top of the key for Dort to cut up from the free-throw line, set his feet, and nail a catch-and-shoot triple. In a typical play, an elevator screen involved two screeners letting their man squeeze through the gap before standing together (thus looking like elevator doors) and fending off his man for an open look. Due to Roby's man (Ersan Ilyasova) playing back on both occasions, coupled with Dort's quick-fire release, Roby alone was enough to fend off defenders.
Dort also fed off of looks created through ball screens. Dort nailed the triples from screens set by Roby, Bazley, and Tony Bradley, who flattened Donovan Mitchell to the point everyone assumed there was a whistle, none was given, and Dort netted three more tally marks.
The second-year man also got into the conversation feeding off of wide-open threes as a Theo Maledon jump-pass to Roby garnered enough interest Dort was seemingly forgotten about, giving away a free three.
Operating Inside
When Lu Dort originally suited up for the Thunder last season, his capabilities of finishing inside progressed over the season to point of being a monster truck in the playoffs — but compared to last August, Dort has much more tricks in his bag.
Dort initiated the offense in the halfcourt the majority of his 33-minute stay, and for every perimeter look, there were about two opportunities right at the rim. He took full advantage of any seam in the defense as once he had a step on his man — he brought a full head of steam right into the Jazz's frontcourt. Dort pushed out multiple size-ups to bring himself inside, and once he did, the sidestep became his major friend, not just to snowball his momentum, but also to freeze the defense just long enough for a look. And yes, he still brute-forced his way inside multiple different times.
What may have been the most impressive about Dort's effectiveness working in the interior wasn't even on how he finished, it was the playmaking. By the second half, Dort was the focal point on Quin Snyder's gameplan — he must've known that. Dort took his power and rammed right through the Jazz defense, forcing defenders both inside and outside to collapse to him, leading to a dump-off pass to Brown, and a circus-style kick out to Bazley. Reading into Bazley's three, once Bojan Bogdanovic had been switched onto Dort, he already knew Mitchell had an assignment on Darius Bazley. As Lu spun into Gobert, it's safe to assume Mitchell was caught in his peripheral because as soon as he'd been caught ball watching, the ball hit Bazley's hands.
Working in the Mid-Range
Entering Tuesday, Lu Dort shot a paltry 13.9 percent of shots in the mid-range (1.6 attempts,) against the Jazz, he shot 11 different times (35.4% of shots) in the working space.
In all four of Dort's midrange jumpers, they all started the same way — a Moses Brown screen. Moses Brown's lanky 7-foot-1 frame combined with his bunny-like hops make him a tough task for any defender, much less a guard. In all four situations, Brown kept the Mitchell-Gobert tandem dazed with his screens as on instinct, a switch had been made, but with Mitchell having zero-shot against Brown, Gobert got caught trying to sulk back to the rim.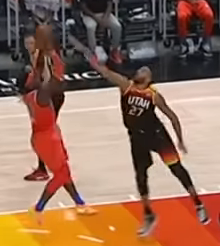 Rudy Gobert played a perfect defensive possession on Dort's first jumper, but Dort played just a little bit better. To begin the play, Dort used a simple pump fake and jab to try and catch Gobert off guard, and though in real time there was no issue, number five scooted his man back a few inches. In Dort's jumper, Gobert paged a textbook recovery, getting right back into the play, and found himself a half-step away from his eighth block.
Defense
Lu Dort's calling card to the league had been his lockdown defense in the G-League, a year later, and Dort is still clamping down the opposition at an All-Defensive level.
In each defensive scenario for the Arizona State alum, he made it a priority to slip into the play even when he wasn't on his correct assignment. Dort baited Georges Niang (31) to pieces in the first frame moving away from the corner to trap him on his way to the baseline, Niang had zero options, and Dort took the opportunity and ran with it — literally. In two of Dort's steals, he used cat-like reflexes and a burst of acceleration to pick his man's pocket and instantly head downcourt. In Dort's steal against Bojan Bogdanovic in the fastbreak, he took heavy pursuit onto the forward swiping him as soon as the ball switched to his left hand, once loose, there was zero doubt on who'd come out on top.
One facet of Dort's night which won't appear on his highlight reel surfaced in his discipline used against his defenders. Dort drew three charging fouls in the first half alone, and he also extinguishing the fire of Donovan Mitchell (averaged 40.5 PPG in last four contests) to 22 points, and when matched onto the All-Star, Mitchell only buried three field goals (8 points.) The main factor in how Mitchell was so ineffective by comparison came through Dort's efforts on screens. In the Thunder's first matchup against the Jazz, Lu Dort was caught in a game of Plinko. He bounced off double-screens all game and with no help from Al Horford, Mitchell was served a three-course meal of wide-open jumpers. On Tuesday, Dort powered right through screens, only allowing Mitchell to convert one jumper off a pick, instead, his artillery had to come from step-back threes — you'll live with that.
Recap
Lu Dort let loose one of the best two-way performances of the season Tuesday night, so much to the point he'll miss Wednesday's back-to-back closer due to a "shoulder injury" — you're not fooling anyone, Luguentz. Barring Dort's absence will be a brief one, Oklahoma City will post 17 more games for the year, and rest assured, the Dortress is just getting started.