Entering the offseason, the future was really not too clear when it came to Mike Muscala. Muscala, age 29, had just come off his best season since 17-18 in his first year with the Thunder, averaging splits of 4.8/2.3/0.9 in only 12 minutes a game. On paper, these stats really do not pop off the page, but when you take into account he shot 37.8% from deep on 3 attempts a contest, you realize how great of a job Muscala did. His dominance from 3 gave him the 13th highest 3PT% percentage for PF's in the NBA last year. This kind of marksmanship from outside never goes unnoticed, especially for players at the 4 and 5.
With the Thunder's core from last year being dismantled, there was a real chance he would opt out of his contract with the Thunder, and instead sign on to a contender. On November 16th this year, Chris Paul was traded to Phoenix and the dominoes were set in place for all the veterans from last year being moved. Despite this, just three days later, Mike Muscala opted into his 2.3M player option with the team.
The expectation with Muscala entering this years preseason was to be a nice veteran presence off the bench yet again with the team. However; from what he has shown in his two preseason games with the Thunder: He's our stronghold off the bench, he's why.
Expanded Role
Before we break down the tape, I think it's necessary as to how Muscala has gotten himself into this bigger role.
With the key departures of C Steven Adams, C Nerlens Noel, and PF Danillo Gallinari, a lot of minutes needed to be filled in the frontcourt. With the addition of C Al Horford, and Darius Bazley given the greenlight to start at the 4, there was a smaller void to be filled, but still one none-the-less.
Muscala has shown to be the perfect fit off the bench for us thus far, as his 6'11" 240lb. frame gives him the versatility to play at the four and the five. This size alongside his game allows for the opportunity to fill right in at the four as a stretch big, with Al Horford holding it down at center.
At the same time, Muscala's also the perfect man to be placed at Center in a traditional line-up, but also in small-ball lineups. He is a big enough threat from deep to keep his man honest at the perimeter, letting the P&R in small-ball units flourish.
Now Let's get to the Tape:
Knockdown Shooting
Mike Muscala shot 7/10 in his two preseason games from 3, and there was no signs of him slowing down from there.
Take a Look at His Shot Chart in the Preseason: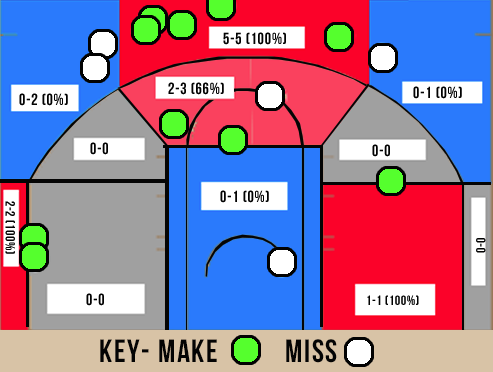 Muscala was effective as you could get going 7-7 from the top of the key and the right corner 3. Let's break down some of these plays and how he find his touch.
Great play not only by Muscala, but also SGA. Muscala sets faking the screen up top and SGA's defender (Dejounte Murray) looks to be bracing for impact as he sees Muscala in the corner of his eye, but in a moments notice SGA took off and blew by him. This left Muscala's man (Jakob Poetl) no choice but to help down low, leaving Muscala wide open for the easy look. After a beautiful pump fake by Alexander to take Murray out of the play he dialed it right up to Muscala for the three.
Once again you see a play orchestrated by SGA in the fastbreak that ends up generating a Muscala three. The burst of speed from SGA once he crosses midcourt has the Spurs defense in shambles, as it took three players to fully commit to him. What you see is a beautiful jump pass to Roby in the corner, who passed up an open three ball of his own for an even more open look to Muscala. Roby freed up Muscala as Derozan's close out left no one else out for three (as he was the only one even close to Mike.) Off the pass, Rudy Gay scrambles after Muscala, but it was too late. Tac three more on the board for Mike.
Something that will go under the radar is Muscala's intelligence on this play to get open. He really tries to hide himself from the play as it was forming, immediately seeing SGA sprint to the cup he lingers behind on the play going completely unnoticed until he was thrown the ball.
This play formulated just 50 seconds after Muscala's previous three in this game.
Right off the bat, take a look at Muscala, just casually running over the corner three strolling right behind Dejounte Murray, he brings no attention to himself ONCE AGAIN. This quality of his to just randomly appear in plays is what brings him so much success. As the begins Diallo and Roby make a 2-on-1 situation up top and Diallo makes a nice pass to Roby who is able to get right into the middle of the paint. LaMarcus Aldridge really was not at too much fault in this as the Spurs just had another completely broken down play. Demar Derozan was in no man's land and instead of being on Roby he was just not in any part of the play. Aldridge's much need help gave Muscala the look. And for the second play in a row we see Roby make a great pass to Muscala.
This play has to be thrown in here as it was easily his best play from the Bulls preseason game. Many people are under the impression that Mike is nothing but a catch and shoot player but he does have some other parts of his game on offense, this play shows it. His screen is able to free him up for just a split second from the mid-range, courtesy of Kenrich Williams. But what I am raving about from this play is his shot release, his shot is not inherently fast, but what shocked me was his release point.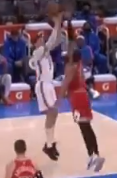 How on earth was he able to get this shot off! His defender Daniel Gafford did an excellent job, pretty much defending a 2-on-1 situation to perfection. Sure there was Lauri Markannen down low in the paint, but he was out of the play! This defense was impeccable, Gafford was centimeters away from blocking his shot. Despite this, Muscala got the ball off at such at high point, with so much arch, he avoided what looked to be a surefire block.
This play makes me confident as his skills an interior player on offense, as he hardly shows off his screens inside the arch much less pulling it from there.
Interior Defense
This whole idea that Muscala is not a good defender inside, needs to be thrown out the window immediately. He had 4 blocks in just 18 minutes in his second preseason game vs. the Bulls! Let's see the footage:
I'm actually surprised that Markannen decided to roll here because Diallo stayed on Lavine and Muscala really commited to paint before he had even completed the screen. If Markannen stayed back or went to the three Lavine would've had an easy kick out to him or the corner, as Bazley would have to cover them both.
Regardless Markannen rolled and upon receiving the ball, his first instinct was to try to lay it up, great reaction time as Muscala got over perfectly and with the ball exposed, all the had to do was swipe.
Muscala stays camped down low for the majority of this play, and off the screen inside he switches down low on Otto Porter. Porter tried taking it right up as at first glance this looks like a golden opportunity for free throws, but Muscala goes straight up and not just disrupts the shot, but rejects it entirely.
Recap
Mike Muscala but his skills on full display this preseason. His quick and reliable jumper make him the perfect option to run at the PF spot. But his good interior defense makes him an option at the center too. Muscala not just limited to being a traditional center however as that shot of his makes him the ideal center in a small-ball lineup with his ability to stretch the defense, it leaves the paint wide open for plays. Expect to see Muscala playing a pivotal part in our second unit this year.