With the departure of Danilo Gallinari to Atlanta this past offseason, as well as key wings Abdel Nader and Terrance Ferguson being moved to Phoenix and Philadelphia respectively, there is a major void to be filled at the SF/PF positions, and Bazley is just the right man for the job.
The Growth of Bazley During His Rookie Year
Bazley started his rookie as an enigma of some sorts, coming out of high school he was a consensus five star prospect, being ranked No. 13 on ESPN's Top 100. In the position that Bazley was in, he could've went to any college to play basketball, but instead after committing and de-commiting to Syracuse, and at one point deciding on playing a year in the G-League, he signed on to work with New Balance as an intern.
There was not really much to base his game off of except for high school tape and praise amongst his peers, but when he first stepped foot on the floor for the Thunder, it was obvious he was more than just a high school phenom. Bazley came into the into the league as a lanky 6'8″, 200-pound prospect with a 7 foot wingspan. It became apparent fairly quickly that he was a steal. Playing backup minutes primarily as a PF, and at times playing at SF, Bazley possessed a wide range of abilities.
He immediately stood out as a great passer, and as an underrated rebounder and shot blocker. His early roles on the team consisted of standing in the corner for a three, or if the occasion raised, driving inside and swinging the ball out the open man or taking it for himself. Alongside his abilities as a passer, his athleticism made it an issue when he was headed towards the rim and the speed he possesses at his size is not often seen in the NBA, and when a true PF was on him they had to be weary of him blowing by. Luckily for opponents, he never was truly able to establish himself as a shooter in the regular season, allowing teams to sag off on him playing a game of chance.
That all changed however in the NBA bubble this summer where Bazley took off as a shooter. In the first 8 seeding games of the bubble Bazley put up ridiculous numbers from deep.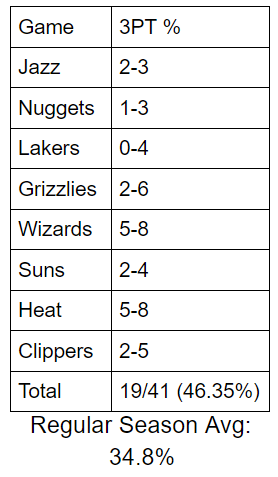 This hot streak continued into the Houston Rockets series as he was one of the most consistent players from three.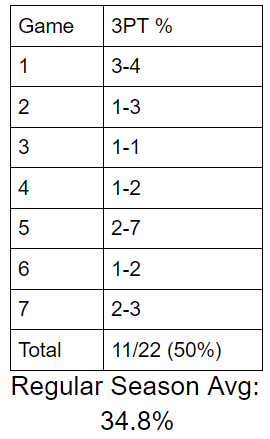 Now it wasn't just like he was shooting catch and shoot threes, he was still blowing by defenders to the cup, passing out the the open man, and getting open off a pick and pop. He was also creating his own shots, which he really wasn't given the greenlight to up until then. With a (condensed) offseason under his belt I can assume you that his shooting ability is not going to magically poof away, that's part of his arsenal now.
His Statline Last Season:
5.6 PPG, 4.0 REB, 0.7 AST shooting 39.4% from the field and 34.8% from 3.
What Should We Expect From Bazley's Sophomore Campaign?
More Opportunities
This will be a key theme with alot of players on the roster, this team is so opened up now anyone has a chance to be an impact player, but I think the opportunity is the largest for Bazley out of anybody.
Bazley, who is only 20 years old, will be taking Danilo Gallinari's job as starting PF this season, and I'd fully expect him to be playing anywhere from 26-30 minutes per game come the start of the season.
Ball-Handling
With Shae Gilgeous-Alexander now is taking the primary ball-handler role after sharing time with Chris Paul and Dennis Schroder last year, the team will be looking for a secondary ball-handler to ease up his role a bit.
Bazley is the perfect player to take this leap. As a High-School player at Princeton HS, one of his key traits was having a good handle for the ball, being athletic, and being able to get others open. We saw him show off his athletic and passing ability, but not him being a ball-handler, that's definitely going to change now.
This excerpt from The Ringer gives a pretty accurate representation of Bazley with the ball in his hands:
"Skillful, fluid ball handler who changes gears and uses h——————–hesitation dribbles along with his swift first step and long stride to get to the rim."

The Ringer's 2019 NBA Draft Guide, Kevin O' Conner
I could see Bazley playing extremely well in isolation situations with a PF, all he needs is one little gap of room and his speed and athleticism will do the rest. And even if the defender is sagging and denying the drive to the hoop, I'd trust in Bazley's shot just as much as him driving inside. There is a serious point forward potential with Bazley, which will be on full display this season.
Playing Multiple Positions on Defense
One of the only knocks you could make last year with Bazley was he wasn't big enough to play against a true PF. Luckily, the first round matchup with Houston really minimized his weakness as he was majority of the time guarding guys like Jeff Green, Robert Covington, and PJ Tucker who pretty much strictly stayed on the perimeter.
Darius Bazley was quoted in a media interview saying:
"I'm going to ask for certain challenges … whether it's bigger " wings, even getting switched out onto guards, on-ball screens if I have to, guarding the post"

-Darius Bazley when asked on his upcoming role
I don't think Mark Dagneault is going to prevent a guy like Bazley from a challenge like that. Will there be some ups-and-downs of him testing out guarding other positions? Of course. But if he is able to establish himself as a multi-positional-defender he will become a unique piece for us on both sides of the ball.
What To Expect From Bazley's Expanded Role?
Bazley is going to be one of the most exciting players on our team this season. And with his minutes going up and having more of a role on the team, expect his production to spike dramatically. With Bazley you may be looking at a sleeper Most Improved Player pick.
My Bazley Statline Projection
14 Points, 7 Rebounds, 2.3 Assists on 44 FG% and 36 3PT%.
Honestly I can see him anywhere between 11 points all the way to 17, I think this is a statline that with the extra minutes, Bazley should be able to hit or even exceed.